This apple slice tastes like a decadent apple pie without all the calories and carbs!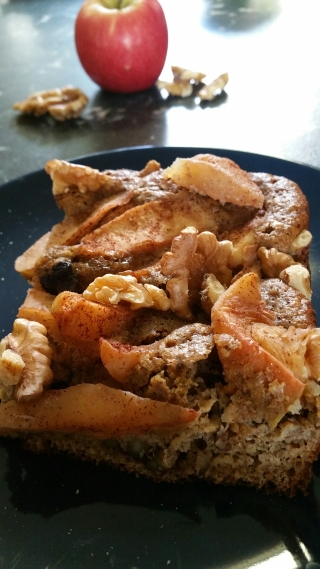 CAUTION: Avoid lupin if you have a peanut allergy
Ingredients
1/2 cup lupin flour (70g)
1/2 cup wholemeal flour or gluten free flour (80g)
1/3 cup almond meal (30g)

3/4 cup Natvia (stevia/erythritol) (150g)

200g plain yoghurt (2% fat)

4 eggs (200g) 

1/2 cup water

4 medium apples (400g) 

2 tsp cinnamon

1 tsp cardamon

1 tsp ground nutmeg

1/2 tsp ground clove

1 tsp soda (5g)

1/2 cup walnuts

1/3 cup currants 
Preheat oven to 170C (fan-forced). Spray a large square pan (about 15 x 25cm) with oil and line with baking paper.
Peel apples and thinly slice. Add to saucepan, sprinkle with 1tsp cinnamon and currants and cover with water. Simmer for about 10min until soft.
In a bowl, combine flour, almond, spices and soda.
In another bowl whisk eggs and add Natvia and yoghurt and combine well. Add flour mixture and combine to form a thick batter.
Pour the batter into the pan. Layer cooked apples and walnuts on the surface of the batter.
Bake for 30min or until just set. Set aside to cool. 
Serve with a dollop of Greek yoghurt..