This cake has a high content of carrots (35%) and walnuts (17%). It also has 1/3 the sugar, 1/2 the refined carbs, double the fibre and protein of regular commercial carrot cake (see table below).
The fat content is high due to the walnuts and olive oil but this is counterbalanced by the low content of refined carbs! PS. despite using a sweetener, this cake is not very sweet.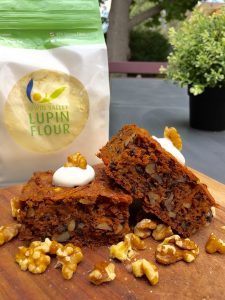 INGREDIENTS
80g (2/3 cup) gluten free flour (if you don't need to avoid gluten, try wholemeal spelt flour instead and cake texture will be lighter)
80g (1 cup) lupin flour
120g (2 large) eggs
400g (4 medium) carrots
200g (2 cups) chopped walnuts
100g (2/3 cup) dark brown sugar
110g (1/2 cup) olive oil
30g (1 cup) granulated natural (stevia/natvia) or artificial (splenda) sweetener (if you don't want to use sweeteners you can use sugar instead but cake will become high in sugar)
5g (1 level tsp) bicarb soda
5g (1 heaped tsp) cream of tartar (will react with soda to help cake rise)
5g (1 heaped tsp) mixed spice
2g (1/2 tsp) cinnamon
5g (1 tsp) vanilla sugar
Method: Preheat oven to 160C (plus fan). Grease (or spray) a medium size loaf pan.
Beat eggs and add sugar, oil, spices and vanilla.
Add flours, soda, walnuts and carrot to egg mixture.
The batter will be quite moist and dense with the grated carrots (don't worry!). Spread batter into loaf pan.
Bake for 70-75min (or for 55-60min if at 180C with no fan).
Insert a knife in to the cake and it should come out clean – don't be tempted to take cake out earlier because it will be soft/mushy in the centre.
Set aside for 5 minutes, before turning out onto a wire rack to cool completely.
Instead of serving with icing, try a low fat Greek style yoghurt (e.g Chobani) mixed with vanilla, a little honey and cinnamon!
Even though this lupin carrot cake is healthier, a typical serve (50g) still provides 164 calories due to the walnuts, so take it easy! But it has only 5 g sugar, 8g carbs and a respectable 2.5g fibre so suitable for people watching their blood sugars.