This cake has 1/3 the sugar, 1/2 the carbs, double the fibre and protein of regular commercial banana cake (see table below). Has a fluffy texture and tastes delicious!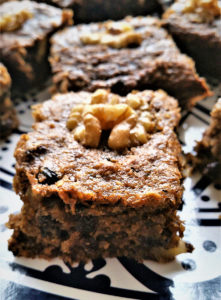 INGREDIENTS
3/4 cup oat bran (or GF flour or wholemeal flour)
3/4 cup lupin flour
1/2 cup almond meal
4 eggs
3 medium bananas, mashed
3 tablespoons currants (optional)
1 cup walnuts or pecans, chopped
3 tablespoons olive oil
3/4 cup  Natvia (erythritol plus stevia)
1 teaspoon allspice
2 teaspoons cinnamon
1/2 teaspoon ground clove
1 teaspoon bicarb soda
Method: Preheat oven to 180C (plus fan). Grease (or spray) a medium size loaf pan. Beat eggs, natvia, oil, spices and currants. Add mashed banana.
In another bowl combine flours, almond meal, walnuts and soda.
Spread batter into loaf pan. Bake for about 30 min or when knife inserted into centre of cake comes out clean. Set aside for 5 minutes, before turning out onto a wire rack to cool completely.
Instead of serving with icing, try a low fat Greek style yoghurt (e.g Chobani) mixed with vanilla, a little honey and cinnamon!
Even though this lupin banana cake is healthier, a typical serve (50g) still provides 130 calories, so take it easy! But 50g serve has only 3 g sugar, 6g carbs and 4g fibre which is much better than your regular banana cake (which has 11g sugar,  21g carbs, 1g fibre per 50g) .