Quick & easy, fruity & spicy, enjoy these treats anytime. Delicious warm from the pan, and any leftovers are great buttered in a picnic basket!
This recipe is courtesy of the Irwin Valley website.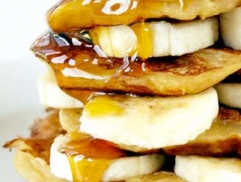 Preparation Time
5 minutes
Cooking Time
5 minutes
Ingredients
2 medium bananas, mashed
½ cup (62g) Irwin Valley Lupin Flour
½ cup (75g) gluten free flour
1 teaspoon bicarbonate of soda
1 teaspoon xantham gum
2 tablespoons raw caster sugar
1 teaspoon grated nutmeg
1 teaspoon natural vanilla essence
1 egg, lightly beaten
¾ cup buttermilk
30g butter, melted
plain Greek yoghurt to serve
Method
Sift flours, nutmeg and bicarbonate of soda into a large bowl.
Stir in sugar. Make a well in the centre.
Add mashed banana, egg and buttermilk. Using a metal spoon, gently fold until just combined.
Heat a non-stick frying pan over medium-low heat. Brush with melted butter. Using 1 tablespoon batter per pikelet, cook pikelets, in batches, for 1 to 2 minutes or until small bubbles appear on surface. Turn pikelets over and cook for a further 1 to 2 minutes or until golden and cooked through.
Transfer pikelets to a plate and cover to keep warm. Repeat with remaining butter and batter.
Serve pikelets with natural Greek yoghurt.