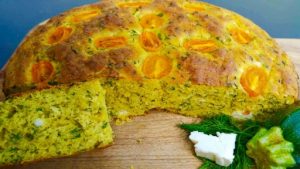 This fresh tasting slice is a cross between a bread and a quiche. The combined flavours of zucchini, fetta, dill and mint are a match made in heaven. Lupin flour works so well with polenta! This slice is great for lunch or for a light dinner with a soup. It also looks striking for a dinner party.
INGREDIENTS
1 cup (100g) lupin flour
(or wholemeal flour but the lupin is better because it will reduce
the carbohydrate load of the slice and increase fibre and plant protein) 
1/2 cup (60g) polenta
120g fetta cheese, grated
4 tablespoons parmesan cheese
4 heaped tablespoons of plain yoghurt (full cream used in calculations)
1 medium (250g) zucchini, grated
3 tablespoons (12g) fresh parsley, chopped
2 tablespoons (12g) fresh dill, chopped
2 tablespoons (10g) fresh mint, chopped
10 cherry tomatoes, cut in half
10 olives, sliced
1/2 cup (100g) extra virgin olive oil
4 eggs
1 clove garlic crushed
1 teaspoon bicarbonate soda
Method: Preheat oven to 170C (plus fan).
Spray a medium sized loaf pan (11cm x 22cm) with oil and line with baking paper.
Place grated zucchini in a colander, sprinkle with salt. Leave to stand for 15min. Using your hands squeeze out as much liquid as possible and set aside.
Combine flour, polenta and soda in a large bowl.
In another bowl combine eggs, yoghurt, fetta, parmesan, olives, oil, herbs and zucchini.
Fold egg mixture into flour mixture.
Batter will be sticky. Pour batter into prepared tin. Place sliced tomatoes on surface. Bake for 45 minutes or until golden and skewer inserted into the centre comes out clean. Allow to cool in tin for 5 minutes, then invert onto a wire rack to cool completely.