Thanks to the lupin flour and high content of seeds, this loaf has half the refined carbs of other gluten free breads and more than double the protein and fibre, so one 50g piece is very filling! Thanks to the polenta it has a great texture and crunchy crust. The turmeric, pepper and cumin provide exquisite flavour and antioxidants.
Great for breakfast or for lunch with hummus or for dinner with soup.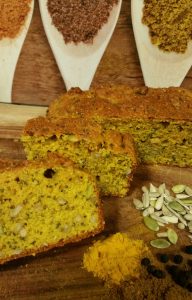 INGREDIENTS
120g (1 1/2 cups) lupin flour
140g (3/4 cup) polenta
45g (4 tbs) pepitas
45g (4 tbs) sunflower seeds
30g (3 tbs) chia seeds
100g (1/2 cup) extra virgin olive oil
150g (2 large) eggs
250g natural plain full cream yoghurt
7g (1 heaped tsp) ground turmeric
1g (1/4 tsp) cumin
1g (1/4 tsp) ground pepper
3g (1/2 tsp) salt
7g (heaped tsp) bicarbonate soda
Method: Preheat oven to 160C (plus fan).
Spray a medium sized loaf pan (11cm x 22cm) with oil and line with baking paper.
Combine flour, polenta, seeds, soda, salt, spices, in a large bowl.
In another bowl combine eggs, yoghurt and oil.
Fold egg mixture into flour mixture.
Batter will be sticky. Pour batter into prepared tin and bake for 35 minutes or until golden and skewer inserted into the centre comes out clean.
Allow to cool in tin for 5 minutes, then invert onto a wire rack to cool completely.
Muffins: Spread batter into muffin tray. Bake for 20 min or until skewer comes out clean.