This cake has a great moist fluffy texture due to the yoghurt and high content of beetroot (25%) which you can't taste! All you can taste is chocolate!
It also has 25% less calories, 35% less sugar, 45% less carbs, 50% more protein and 400% more fibre than regular chocolate cake (see table below). Despite replacing half the sugar with sweetener, this cake is not very sweet.
INGREDIENTS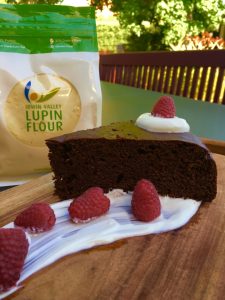 150g (1 1/3 cup) gluten free flour
(if you do not need to eat gluten free you can try wholemeal spelt flour instead and cake texture will be lighter)
150g (2 cups) lupin flour
70g (1/2 cup) cooking cocoa
80g (1/3 cup) Cadbury's dark chocolate chips (these are gluten free)
7g (1 level tsp) bicarb soda
10g (2 tsp) vanilla sugar
300g (3 medium) beetroot (use vaccum sealed boiled beetroots rather than canned which may have added salt/sugar or bake raw peeled beetroot in oven in foil until cooked)
250g (1 cup) low fat plain yoghurt
180g (3 large) eggs
100g (1/2 cup) canola or olive oil
100g (2/3 cup) dark brown sugar
25g (3/4 cup) granulated natural sweetener (stevia/natvia) or artificial sweetener (splenda – this tastes the best). If you don't want to use sweeteners you can use sugar instead, but cake will become high in sugar.
Method:
1) Preheat oven to 160C (plus fan). Grease (or spray) a medium size loaf pan. Dust with flour to avoid cake sticking to pan.
2) Grate or blend beetroot (in a blender).
3) Whisk eggs and then add sugar, sweetener, oil, yoghurt, and beetroot.
Mix until well combined.
4) In a separate bowl combine flours (sifted), choc chips, cocoa (sifted), soda, vanilla.
5) Add egg mixture to flour mixture and combine well.
6) Bake for about 65 min (insert a knife into the cake and it should come out clean).
7) Set aside for 5 minutes, before turning out onto a wire rack to cool completely.
8) Instead of serving with icing, try a low fat Greek style yoghurt (e.g Chobani) mixed with vanilla, some grated beetroot and a little honey!
Even though this lupin choc cake is healthier, a typical serve (50g) still provides 138 calories, so take it easy! It has 6.5 g sugar, 12.5g carbs and a whopping 3.5g fibre per serve.