With a 4.5 star rating, this oaty lupin orange slice can be eaten daily. If you are sick of porridge or muesli why not try this for breakfast with a cup of coffee or tea. Alternatively take a slice to work for lunch. A typical serve is 100g (which is very generous as you can see in the photo, 1 piece) with an impressive 6g fibre, 12g protein, 25g carbs (which is less than 2 slices of bread) and only 200 calories! The sugar is coming from the yoghurt, fresh orange and honey which is off-set (i.e delayed absorption) by the high protein and fibre.
INGREDIENTS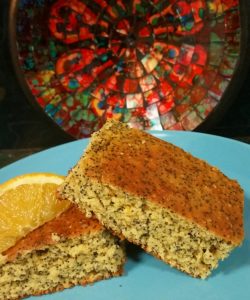 1 cup (90g) lupin flour
1 3/4 cup (160g) rollled oats (blitz in blender to turn into a flour)
1/4 cup (80g) poppy seeds
4 eggs (220g)
1 cup (200g) plain yoghurt (2% fat e.g Chobani)
juice of one orange (include the fibre) (about 1/2 cup or 100g)
zest of 1 orange (for extra taste you can add some orange blossom water)
1/4 cup (100g) honey
2 1/4 teaspoons baking powder
Method:
1) Preheat oven to 180C (plus fan). Grease (or spray) a medium size loaf pan. Dust with flour to avoid cake sticking to pan.
3) Whisk eggs and then add honey, yoghurt, orange juice and orange zest. Combine
4) In a separate bowl combine flours, poppy seeds, baking powder
5) Add egg mixture to flour mixture and combine well.
6) Bake for about 35 min (insert a knife into the cake and it should come out clean).
7) Set aside for 5 minutes, before turning out onto a wire rack to cool completely.