This choc brownie is super healthy and will fool many choc brownie lovers as being the real thing! Sweetened with banana, stevia and erythritol with no added fats just yoghurt!
The topping is melted dark chocolate but you can skip this if you want to make it even lighter in calories (but will taste less like a brownie).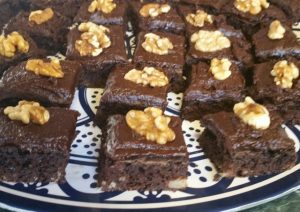 INGREDIENTS
1/2 cup lupin flour (70g)
1/2 cup wholemeal flour or gluten free flour (80g)
1/3 cup almond meal (30g)
3/4 cup cocoa (sifted) (70g)
3/4 cup Natvia (stevia/erythritol) (150g)
1/2 cup milk 2% fat (100g)
200g plain yoghurt (2% fat)
4 eggs (200g)
3 small bananas, mashed (300g)1 tsp soda (5g)
1 1/2 cups dark choc chips (for topping) (240g)
Method:
1) Preheat oven to 170C (fan-forced). Spray a large square pan (about 15 x 25cm) with oil and line with baking paper.
2) Put Natvia, cocoa, yoghurt and milk in a medium size saucepan. Whisk over low heat until mixture is well combined. Cool.
3) Add the eggs and banana to the cocoa mixture. Whisk well to combine.
4) Add the flours, almond meal and soda and mix until well combined.
5) The batter will be thick and sticky.
6) Pour the batter into the pan.
7) Bake for 40min or until just set. Set aside to cool.
8) Melt about 1.5 cups of dark choc chips in a pan with a little milk. Spread over the top of baked choc brownies. Cut into squares. Place one walnut half on each square.